South Pole

The Cave
Info
Type
-
Scenery
-
Game
-
Portals
-
Additional Details
-
South Pole is a continent map accessible through Lonely Cave. It is a snow-covered map with a everlasting blizzard. The only use it is other than roleplaying is an portal to Atlantis
There is really nothing but snow in this map. There is a everlasting blizzard weather in this map. The map is full of hills and ditches. In the middle of it is an small cave with a hill, where most of the players are. The cave itself is a portal to
Lonely Cave
. However, at the very northeast edge of the map is a portal to
Atlantis
.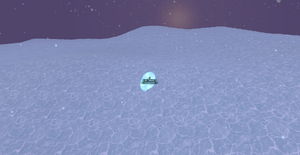 Many players get 'Lost' in this map in search of the Atlantis portal.
Maybe the map is based of Antartica, as it is the south pole. However, it rarely snows near the south pole.
This map has the least number of decorations. It is only behind Last Cave, which has nothing in it beside it's ceiling.
This is the only default map with a weather system.
Many wolf/husky RPs occur here, because of the climate.
It is possible to slide on the mountains, making them tricky to cross.
In order to find the Atlantis portal, you must go to the top right corner of the map ( use the mini-map to help you ) and you shall see a portal eventually if you went the right direction.