www.feral-heart.com
Featured Article
Fluorite Plains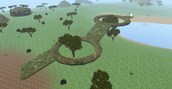 Fluorite Plains is one of the most popular maps in the game and is also one of the most popular roleplay hubs. The general chat is filled with advertisements and random conversations. There are many famous landmarks here, and this is one of the biggest maps in the game. Read more...
Participating
To write a new article, you can just click the button below and will take you to the page creation portal
Do not make any fan fiction articles, post chat logs or character bios. Do not make new articles on your maps, presets, mods, markings, etc.
Wiki Rules
Simple as pie! We only have a few main rules:
Be nice to other users, only slight vulgar language allowed.
Be literate when editing at all times.
If you delete all data in the page, it can be reverted and you will be banned.
Use common sense while editing any page.
Do not make pages for mods, maps, markings, presets, chat-logs, etc. This is what the FeralHeart site is for.
Don't know anything about FeralHeart? Head on below!
Feral Heart
FeralHeart [feer-uhl hahrt] is a 3D roleplaying game that uses Direct3D9 or OpenGL. FeralHeart was created by KovuLKD and Razmirz hosted the server. This game came out in January of 2011 and its servers had launched in February of 2011. In FeralHeart, you have the choice of being a canine or feline. You can customize these models in various ways, add textures with colors of your own choice, and play as it! There is no objective in the game. It's all about roleplaying. If it is your first play, you should check out the Controls.
The game is a sequel to the earlier game by KovuLKD, Impressive Title.
Feral Heart (In-game)
This is a 3D roleplaying game that uses Direct3D9 or OpenGL to run. FeralHeart's coding is more advanced than coding in Impressive Title. In FeralHeart you can be a non-morphic canine or feline. FeralHeart has many features such as playing online, object maker, sky maker, map maker, preset maker. FeralHeart can even allow to use your maps, objects, maps and presets in-game.
In-game you can experience connection problems such as: Bad Tokens , Failed to Connect to Map server, Failed to Connect to Front server, or Unable to log on/go online. Anybody can get these errors.
FeralHeart has many official maps such as: Bonfire Island, Ficho Tunnel, Fluorite Plains, Temple Of Dreams, Cape of Distant Worlds, Lonely Cave, South Pole, Atlantis, Lost Cave, Ascension Island, and Sky's Rim.
Forum
FeralHeart's Forum is powered by SMF 1.1.16 and contains sections such as News & Updates, Help & Rules, FeralHeart Addons and Mods, and more. The FeralHeart Forum is used to read updates and news about the game or/and forum, posting things you've made, or whatever you want.